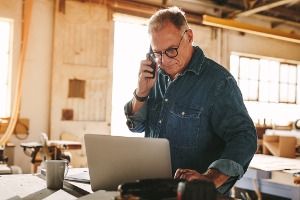 Kyle started mowing lawns and shoveling snow when he was just a teenager trying to earn money to buy his first car. It made a great summer income when he was home from college and helped him graduate debt free. Kyle started working in a corporate job utilizing his finance degree as a commercial loan officer for a local bank. But as he extended credit to businesses, he had this nagging urge to start his own landscaping business.
Kyle started small with a truck, trailer, a commercial mower, a single plow and an industrial snowblower. He kept his banking job working in the off hours and on weekends mowing lawns and clearing snow. Finally, he had enough customers to hire his first crew and still net a nice profit in addition to his bank job. When the bank merged with a regional bank, Kyle realized his heart was no longer in the banking industry and decided to make a go of his landscaping business. Today Kyle has 18 crews and business throughout the tri-county area including a waitlist of new customers.
A couple of years ago, when the business was growing rapidly, Kyle hired a general manager who manages the team and equipment and an office manager who also handles inside sales, scheduling and invoicing. These hires have helped Kyle focus on growing the business, marketing and securing larger commercial contracts. The seasonal nature of the business and the solid management team has allowed Kyle and his wife to spend nearly two months in the winter at their condo in Naples. Increasingly, they are enjoying their leisure time in Florida, and Kyle is staring to think about selling his business in the next five years.
Kyle's accountant suggested he talk with us to help with his business exit planning. We started by sending Kyle a link to our 5-minute, 20-question confidential assessment called the Business Exit Readiness IndexTM (BERITM) Report. The report identified that while Kyle was somewhat prepared emotionally to sell the business and retire, he had always used extra profits to expand his business and buy new equipment and wasn't financially prepared to replace the income stream the business provided. Our planning process helped Kyle and his wife identify the funding gap that the sale of the business would need to generate in order to sustain their current lifestyle. An informal valuation of the business provided a range of values between $2.3 Million and $3.1 Million based on the current balance sheet and cash flow.
The next step was to identify how grow and prepare the business for the best possible sale transaction in the next 5 years. Kyle completed the Owner Dependence IndexTM (ODITM) Report to identify areas where his business needed more attention for purposes of transferability and around eight (8) specific areas of improvement. The ODI™ is an important part of our Creating a Transferable Business™ (CTB™) model.
Retaining and rewarding his management staff and not competing for crew members every season were important key components to solidifying Kyle's exit strategy. We helped Kyle implement a Retirement and Profit Sharing plan that provided tax advantages and value for Kyle and his wife, as well as his team. Kyle also knew that his general manager was key to his business success and created an executive compensation plan that both incentivized him to stay, it solidified him as part of the transition plan. Kyle worked with an M&A attorney to create a stock ownership agreement based on the GM's impact on company growth and to allow him to earn a minority stake in the company.
With the solid management and loyal crew in place, Kyle has been lengthening his stays in Florida. He has increased the company's marketable value for a future 3rd party sale or perhaps a partial sale to his GM with cash infused by a private equity recapitalization. Kyle has added a fishing boat to his retirement goals and is starting to taste the retired lifestyle.