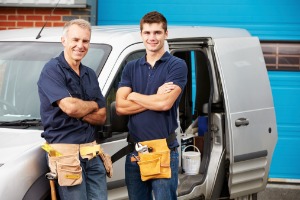 Rich returned from serving in Vietnam and went to trade school on the G.I. Bill. He bought a work van and started a home improvements company, taking on handyman jobs and some remodeling. He got married and worked hard to build the business and allow Mary to stay at home with their two children Brad and Stacy.
Eventually Rich got his builder's license and expanded the company to build a few custom homes a year. He was able to pay for his children's education without any student loans. Brad got a degree in business with a minor in marketing, while Stacy went to nursing school. When the kids were older, Mary started helping out keeping he books, answering the phones, handling the schedule and payroll but her heart wasn't really in it.
Brad worked for a few years at an advertising firm and later for a small marketing agency. It was there that he realized his own earnings and lifestyle would never eclipse that of the business owner. He had a conversation with his dad and decided to come back into the family business. Rich new from the onset, he didn't want to spoil his son or potentially destroy his business by handing over the reins to Brad without earning it. Rich made Brad start off learning every aspect in the field from demolition and disaster recovery work, then learning each of the trades and finally project manager and site foreman. Brad also brought his dad the recommendation they add insurance restoration and disaster recovery services to the business, and Rich let Brad run with this idea. Eventually they became an approved vendor for a large insurance company, creating steady reliable work, even when the market was soft in new home construction.
Brad was in this role when Mary got the diagnosis, and Rich felt he needed to spend more time to be by his wife's side during treatment and battle back from cancer. Brad was thrust into a management role that his father was too distracted to maintain during this time. It was also a wake-up call to Rich that he needed to get his financial affairs in order. And while he did some basic estate planning, he still did not have an agreement in place about the transition of the business to Brad, how to make sure that he and Mary would have sufficient income, and how he could equalize his estate for Stacy. Mary responded well to treatment and while she recovered, she didn't want to return as office manager. When Rich came back full time, he found that Brad was thriving in his expanded role, but that they were frequently disagreeing about the direction of the company.
It was at this time that Brad reached out to us at the recommendation of a mutual friend. He knew he would need help to balance his relationship with his parents and in creating a fair and seamless transition of the business when his dad was ready to retire. Family succession planning has several added layers of complication including making sure that everyone can still gather around the Thanksgiving table as a family without the family business getting in the way. A fair valuation that allows the founding generation to monetize the value of the business to support their retirement while not burying the next generation in debt to finance the elder's exit can require both technical skills and emotional finesse.
We worked with Rich and Mary to establish their retirement goals, income needs and timeline. We also addressed the concern about how to create an inheritance for Stacy who was not at all interested in the construction business. Rich's Business Exit Readiness IndexTM (BERITM) Report revealed that while he was financially well off, he still enjoyed going to work every day, quoting new jobs, and the prestige of owning the largest building and restoration company in town.
Meanwhile, Brad was concerned that he was growing his father's business only making an eventual buy-out more expensive for him in the future. He knew that neither his parents nor the IRS would just allow him to inherit or be gifted the business without costs but was at a loss as to how to structure the deal let alone finance it. On top of this, Brad also had a young family and was growing in concern that he would be able to give his children the same level of assistance in their education that his parents had. We met with Brad and his wife Amy to develop a financial plan that addressed their unique concerns.
Although he wasn't ready to retire, Rich was curious what his business was worth in today's dollars. Brad wanted to know what his contributions to grow the business were worth and whether growing them within his dad's company was in his best interest, or whether he would be better served to just start over. In absence of a written agreement, Brad did not have a noncompete and could just take his customers and go out on his own. Clearly, the father and son needed help getting on the same page to make sure their company was one of the 30% of family businesses that survived to the 2nd generation.
An informal business valuation revealed that the range of values of the business was $4.5 million to $7.2 million depending on the method used in the calculation. While this excited Rich, who all of as sudden was interested in spending more time on the links than behind a desk, it worried Brad that he could afford to buy out his dad. A valuation of the business revealed that Brad generated about a third of the annual revenue with the insurance restoration work alone, and he didn't feel he should have to buy that from his dad.
Working with an attorney, Rich and Brad struck an agreement to an installment sale over the next 10 years, during which Rich would earn a salary and remain president for the next 5 years, while Brad would earn increased ownership of the construction business in lieu of his full compensation. At the 5 year mark, Brad would obtain financing to buy out his dad's remaining interest in the business. Both father and son, funded their agreement along with an estate equalization for Stacy as a nonparticipating heir with life insurance.