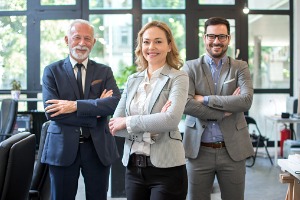 Roger, Connie and Steve met at college and have been a dynamic trio ever since. All three got their degree in accounting while Roger went on to get an MBA and Connie minored in marketing. Each got hired after graduation – Roger worked for an automotive supplier in purchasing, Steve as a staff accountant for a big CPA firm and Connie as CFO/Controller for a trucking company. They got together on a regular basis to play trivia at a local watering hole swapping stories about their growing families and careers.
In their early 30s, after being passed up for Partner, Steve shared one trivia night that he was thinking about hanging a shingle and starting his own accounting practice. Connie chimed in that while she was well compensated and appreciated at the logistics company she worked for, she knew she was at the highest rung in the company she could achieve and was looking for more. Roger's job was going well but he listened intently as Steve and Connie chatted about going into business together offering Accounting, Business Consulting and Fractional CFO services to small – mid-size businesses that couldn't afford to have these roles on staff. Just when they were ready to give notice and launch the business, Roger's job was transferred oversees. Steve and Conner were more than happy to add Roger with his MBA and enterprise level business experience to the team.
22 years later, the firm has nearly 60 employees handling tax, bookkeeping, business consulting and CFO services to over 500 businesses in Southeast Michigan. The partners were all empty- nesters except Roger who's youngest graduates college this year. The business was so profitable, they were unsure about how to find a buyer and didn't know if any of their talented associates could afford to buy them out. We had worked with other clients of the firm on their business exit planning, and they had witnessed the myriad of successful outcomes, and it was time to hire us to figure out their own endgame.
We sent Roger, Connie and Steve a link to our 5-minute, 20-question confidential assessment called the Business Exit Readiness IndexTM (BERITM) Report. The reports indicated that Roger had saved well for his retirement and was financially prepared but still loved the work; Connie was tired of the emotional stress of running a business and wanted more time to travel with her husband but was counting on the sale of the business to help fund her retirement gap; and Steve hadn't given much thought to retiring but rather wanted to stay and grow the company for another 10 years.
An initial valuation gave us a range of $18.5 million to $24.1 million. We worked with our network and identified another midwestern CPA firm that was looking for a presence in the Detroit metro area, but the college buddies weren't sure how a sale would impact their employees and whether the culture was a good fit. One of the other exit strategies that intrigued the trio was an ESOP, an Employee Stock Ownership Plan. While there are added costs to administer an ESOP, as accountants they were attracted to the tax advantages and creating a market for the stock in their growing practice as a way to further fund their own retirement goals. The regional firm was still interested in a merger and purchased a 15% minority share of the company, 70% of the company was transferred into the ESOP while allowing the local leadership to maintain control with each of the partners retaining a 5% equity position in the company.
Roger, Connie and Steve still meet up for trivia night. They share photos of grandchildren, travel and occasionally talk about the business they built and retired from.